Industrial Embroidery Machines by Melco Bravo and AMAYA XTS, sales and services
Thank you for your interest in Melco Industrial Embroidery Machines.
Let me tell you a bit about P Viljoen Trading.
We are a Farther and Son business that has been in the Industrial industry for over 8 years. JR Viljoen is our Technician and was trained to maintain Melco, SWF, Tajima, Brother and some of the other brands
Mistake people make in the Embroidery industry when buying a new Industrial machine:
1. Look at price and not production. ( You will never see a farmer asking the price of a tractor first. No his first question would be how much can this tractor produce in one day at what running cost) The same applies to Embroidery machines
2. Don't Research the backup Support for a Brand
Here is my list of Industrial/Commercial Embroidery Machine that you should look at, and only these machines.
In Number #1
Melco EMT 16 Selling at R 185,600.00 my price for June 2015 =  R167,500.00
There are no competition for this machine in South Africa
In Number #2
Melco Bravo 16 ( Single head 16 needle ) selling at for June 2015 = R 138,570.00
This machine is compatible and in competition with the following:
Brother PR 1000 ( Single head 10 needle ) selling at R 190,550.00
SWF 15 ( Single head 15 needle ) selling at R 145,920.00
Tajima 12 ( Single head 12 needle ) selling at R 148,570.00
and My bottom range machine
Ricoma 15 PT ( Single head 15 needle ) selling at R 104,500.00
Ricoma 15 TC ( Single head 15 needle ) selling at R 110,500.00
Ricoma 15 ET ( Single head 15 needle ) selling at R 129,500.00
Both JR and myself do not recommend any other brand not on this list.
Looking at the list and Prices you can see that:
1. The Melco EMT 16 with a production of 25 – 30 % more than any of the other machines is the best production unit you can buy in South Africa
2. The Bravo 16 is priced lower the the 3 competitors and just higher than the bottom end of the market machine we approve if you must buy based on price. We would recommend you reconsider though,
3. P Viljoen Trading provide on site maintenance even on Saturdays, plus Delivery and 3 days on site training with every new machine sold.
We believe your best DEAL and Service would always be with Melco. You choice would be EMT 16 or Bravo 16
=======================================
Welcome to Melco Bravo and XTS , home of  industrial embroidery machines sales and services for:
Melco Amaya XTS Dealers :
Gauteng, Freestate, Mpumalanga, Northwest and Limpopo.

Western Cape

Eastern Cape

KwaZulu Natal
AMAYA =
A

s

M

any

A

s

Y

ou

A

dd ( Build You Multi Head network)

All Melco stock are priced based on the following:
Current Stock Available

R/$ at time of current stock cleared by SARS
if now stock available the new shipments price will relate to current R/$ rate on day of stock cleared by SARS.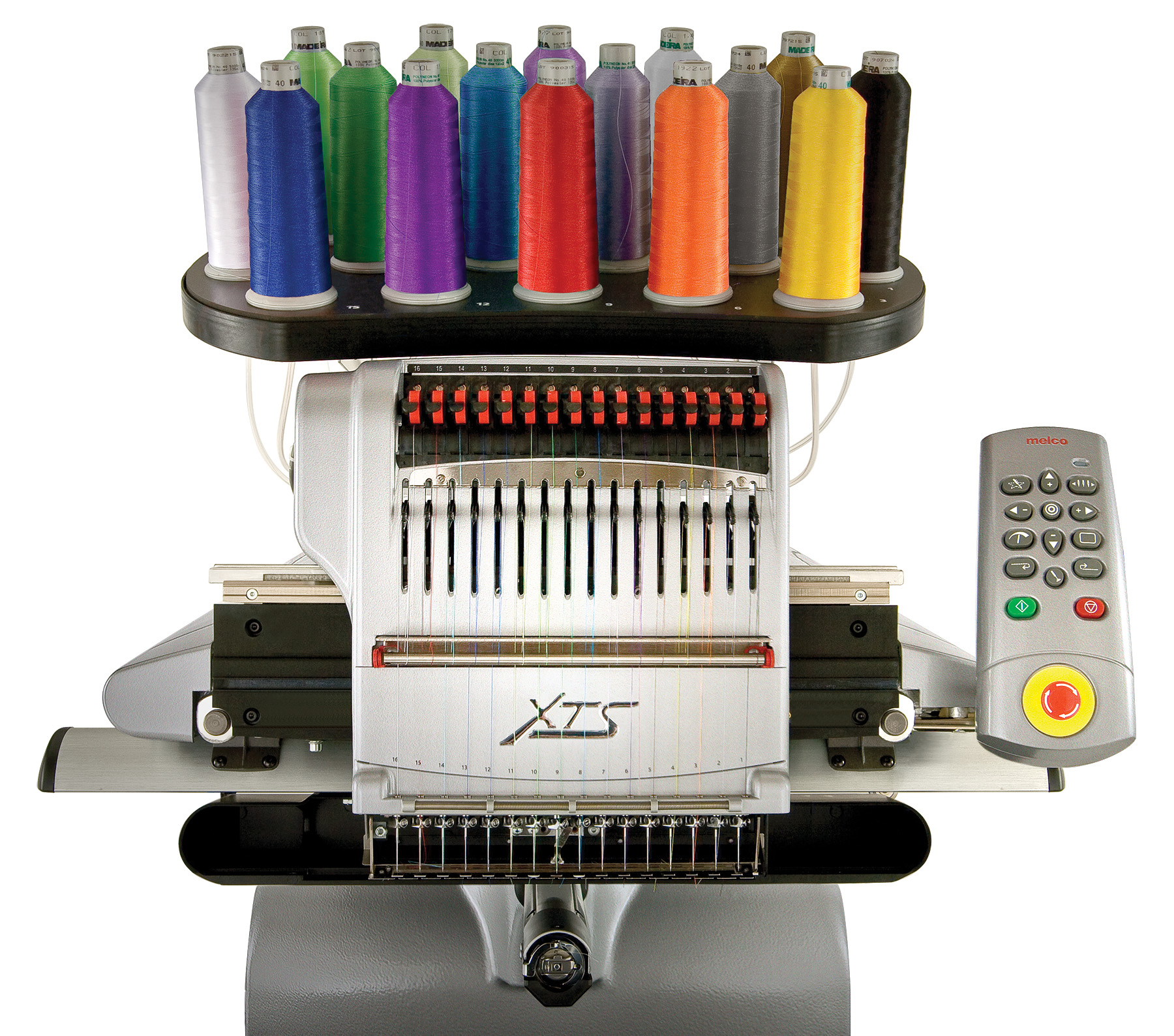 Amaya XTS 16 needle Single Head (Unit 1)
Amaya XTS (Unit 1)
Single head 16 needle industrial embroidery machine. With Stand With the following hoops:
2 x 12, 2 x 15, 2 x 18cm round
2 x 30 x 36cm
Cap unit with 2 Cap Frames
AOSSE Software
Design Shop Standard Designs Set
Price of the machines are R/$ linked and calculated on date of shipment arrival
Available Qty: 1
Price: R173,500.00
Or
Amaya BRAVO 16 needle Single Head
AMAYA BRAVO
Single head 16 needle industrial embroidery machine. Table top Model without Stand
Price of the machines are R/$ linked Come standard with:
1 x 12 and 1 x 15cm round hoop
1 x 30 x 36 cm hoop
Price: R135,400.00
Please complete the form above in order for us to direct you to the best possible solution to your industrial embroidery machine needs.
Industrial embroidery machines are an important tool for anyone interested in taking up textile designing as a hobby or career. It is in great demand all over the world, owing to the beautiful patterns and designs done on them. Different craft projects and corporate advertising too make use of embroidery as a useful skill.
Earlier, the skilled designers in the Asian countries like India would embroider clothes with hand. Though the results of hand-embroidery are perfect, they consume a lot of time and efforts. As a result, the importance of industrial embroidery machines for embroidery has grown in past few decades. Here are some of the most important factors considered while choosing it.
Type of Operation
On the basis of operations, there are two types of it available in the market. These include:
Electronic Industrial Embroidery Machines.
As their names suggest,  an electronic industrial embroidery machines makes use of electricity for embroidering. Computerized it too make use of electrical power, but they are much more advanced and their working is controlled by computer programs. Electronic embroidery machines can generate embroidery designs on a number of cloth pieces in short period of time.
Need for Industrial Embroidery Machines
Those who wish to purchase embroidery machines to pursue their hobbies at home can choose machines with simple functions. It is an obvious thing to understand that a industrial embroidery machine has more features and is capable of performing more functions. The individual needs too are among the deciding factors while purchasing machines for embroidery.
Features and Functions
Electronic embroidery machines are designed to generate high output in less time. This is the reason that different models of these machines are facilitated with a variety of features. For instance, automatic needle threader is one desired feature to speed up the task of embroidering. Besides, there are machines with 20-25 heads, each head consisting of up to 15 needles.
Multiple needle positions, numerous stitch functions, variety of stitch patterns and many such features can also be found in a modern it. As a result, the choice of industrial embroidery machine for embroidery is based upon the features one desires to have.
Price and Brand of Industrial Embroidery Machines
The prices of it vary according to the number and types of features each one of them offer. Evaluation of individual needs can help one choose an embroidery machine within a specific price range. Another important factor is the choice of brand for these industrial embroidery machine. There are a number of reputed manufacturers who regularly launch improved machines for embroidery in the market. For a good quality machine, buyers give preference to brand name over price.
To conclude, need and convenience of using the industrial embroidery machine, desired features, price and brand name are among the important features that help in selecting it. People who are highly enthusiastic of experimenting with their industrial embroidery machine skills do take these factors into account.
Melco Amaya is the worlds best innovation in industrial embroidery machines for 2012/2013.